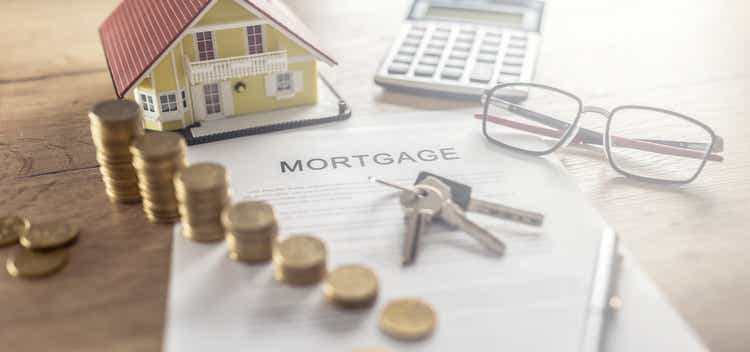 Annaly Capital Management may beat second-quarter earnings consensus, but book value may fall
Annaly Capital Management (NYSE: NLY) may beat the second-quarter earnings consensus, but book value may be negatively affected.
The mortgage REIT is expected to announce its second quarter results on Wednesday, July 27, after the market closes.
EPS consensus estimate is $0.25 (-16.7% Y/Y) and the consensus revenue estimate is $399.39M.
Over the past 2 years, NLY has beaten EPS estimates 100% of the time and revenue estimates 13% of the time.
Over the past 3 months, EPS estimates have seen 3 upward revisions and 4 downward revisions. Revenue estimates saw 1 upward revision and 2 downward revisions.
Notably, NLY's book value per share fell 15% in the first quarter as market turbulence caused agency mortgage-backed securities to underperform. First-quarter earnings, however, beat analysts' average estimate and more than covered its dividend.
For now, house prices are near historic highs and mortgage rates continue to soar. Housing affordability in the United States is on the verge of hitting its lowest point since the Great Financial Crisis of 2007, according to a report by S&P Global Ratings published on July 20.
Mortgage REITs and homebuilder stocks could be hit.
Peer AGNC Investment stock fell after hours yesterday after the company's net book value fell in the second quarter with weakness in the agency MBS market. AGNC EPS beats by $0.24.
With book value per share trends showing similar patterns across the mortgage REIT sector, the metric is expected to decline for NLY in the second quarter.
Here's a quick look at Annaly Capital Management's book value over the past few quarters.